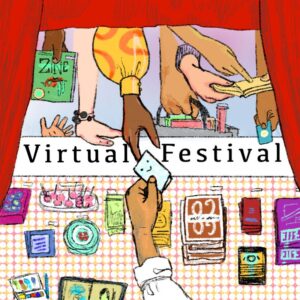 Welcome to the virtual festival! Below is a randomly ordered grid of online stores from zinesters and creators of small art. Submitted by the members of the Zine Crisis discord in the #virtual-festival channel. Browse through to find your next favorite indie treasure!
Warning: Many of these stores sell transgressive and mature content, so check warnings on store pages if you are sensitive to such materials. We try to add [18+ thumbnails] if their site has adult-only thumbnails, but we may miss some and a lack of the [18+ thumbnails] label it doesn't indicate a store with non-adults-only art
Live Booths
The latest updates from our virtual festival tablers!
I have a new game out now on Itch! It's the fourth installment of the visions series and I spent a lot of time on it so I would love it If you played it. The paid version (10% off right now) even includes the first 3 visions zines and a special bonus zine!
https://mydogstolemyliver.itch.io/visionsvol4
here's my shop!! quite a bit of it is 18+ jsyk!
All Stores (Randomly Ordered)
Filter by:
Show All
,
physical zines
,
digital zines
,
shirts
,
comics
,
prints
,
graphic novels
,
stickers
,
original art
,
membership
,
fiction
,
books
,
ebooks
,
RPG zines
,
video games
,
interactive fiction
,
poetry