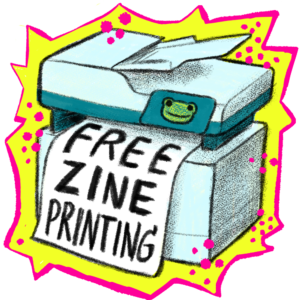 The Zine Crisis Mutual Assistance Group believes that zines are for everyone. If you don't have access to a copy machine or printer where you live, or you can't afford it, let us help.
Upload your black and white or color zine—up to 12 pages (including the cover and back) that fit on three double-sided US Letter sheets or less—and we'll mail you 10 copies of your creation that you can trade, sell, or give to your friends.
Ready to make you zine but don't know where to start? Check out: Thuban Press Guide to Analog Self-Publishing, make it with the classic 8 page one-sheet template (hint: you can replicate the template by folding paper too), or head over to the ZC MAG resources page for info.

FYI: We aren't a professional printing company, we're a couple of trans zinesters with some home printers looking to help out. If you'd like an idea of what your zines will look like, check out the pictures in the Print At Home Zine Library. There are two slot available each month, please only use this service a maximum of once every three months.
Your zine file must be ready-to-print and not need any digital editing, beyond formatting it into a booklet. We can do that.
We will contact you by email in 2-4 days regarding printing your zines! If it's been over a week and you haven't heard from us, please contact us or ping us on twitter. Allow 5 – 6 weeks for the printing to be ready.
Disclaimer: The info you submit through this form will be stored privately on our website for our access and reference